Tara J.
Washington, DC
"5 years of Teaching All Ages and Skill Levels"
Book Online
...or call (202) 800-1490
About Tara
I am a former competitively ranked USTA player from the East Coast Eastern Section. I was a serious athlete training for tennis and track and upon recruitment into college for both sports, I chose to run D1 Track at American University and discontinue competitive tennis. Instead I obtained the United States Professional Tennis Registry (USPTR) teaching certification. During summers I would help manage and coach several tennis camps and clinics to 100s of students for the head coaches of both Drew University and Steven's Institute of Technology in New Jersey. I was also an instructor for two local tennis clubs. Therefore I gained experience teaching different ages and skill levels for private lessons, group lessons, managing camps, and learning different types of conditioning for what it takes to be a competitive player. Currently, I have developed independent experience over the past year by growing my client portfolio here in NW Washington D.C., teaching to over 85 students.
Teaching Style & Experience
Years Playing
15 Years
Years Teaching
4 Years
Kids
Juniors
Adults
Beginners
Intermediate
Advanced
It is typically dependent on the level and the age, but my teaching style is structured by repetition and evaluation. My philosophy is a strong base: - Particularly from beginners to intermediates, I teach and drill, then we evaluate and we move on. For younger students, I emphasize learning through games to keep it fun but still emphasizing repetition and evaluation before we move on. Here we get the basics right before anything. - For advanced players, I emphasize drills and some conditioning; rallying will be an emphasis. - Tournament players are expected to have a goal they want to reach and together we will construct a training plan; however, my emphasis here is conditioning. For players beyond beginners, the first lesson with me is an evaluation and then we will construct a plan to meet your tennis goals. My specialties are teaching the forehand and serve.
Lesson Packages
6 Hour Package
$402
($67 per hour)
13 Hour Package
$767
($59 per hour)
22 Hour Package
$1144
($52 per hour)
... or call (866) 454-2747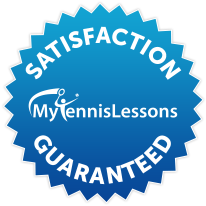 Locations
Wilson High School Tennis Courts
3950 Chesapeake Street
Washington, DC
Friendship Recreation Center
4500 Van Ness Street
Washington, DC
23rd & N St.
23rd & N St.
Washington D.C., DC
Rose Park Tennis Courts
26th & O St. NW
Washington, DC
American University Tennis Courts
4400 Massachusetts Ave. NW
Washington, DC
Turtle Park Tennis Courts
45th and Van Ness St
Washington, DC
Availability
= Available
| | Monday | Tuesday | Wednesday | Thursday | Friday | Saturday | Sunday |
| --- | --- | --- | --- | --- | --- | --- | --- |
| 6am | | | | | | | |
| 7am | | | | | | | |
| 8am | | | | | | | |
| 9am | | | | | | | |
| 10am | | | | | | | |
| 11am | | | | | | | |
| 12pm | | | | | | | |
| 1pm | | | | | | | |
| 2pm | | | | | | | |
| 3pm | | | | | | | |
| 4pm | | | | | | | |
| 5pm | | | | | | | |
| 6pm | | | | | | | |
| 7pm | | | | | | | |
| 8pm | | | | | | | |
| 9pm | | | | | | | |