Mark W.
San Antonio, TX
"Former Guan National Team Coach Teaching in San Antonio"
Book Online
...or call (210) 390-1450
About Mark
Hi, my name is Mark. Coaching and teaching all ages, from beginners to the most advanced players, I enjoy working with anyone who can put a racquet in their hand. Born and raised in the Pacific Northwest, my love for the game, started at the age of five playing with my father on the public courts of my hometown in Kennewick, Washington. After playing NCAA tennis Northwest Nazarene University and Pacific Lutheran University and becoming a USPTA certified professional, I gained professional tennis teaching/coaching experience in cities all over the world. From serving beginners in grass-roots USTA tennis programs, to tennis enthusiasts at world-class resorts in Mexico, California, and Guam, to experienced players at the international level, I have extensive experience teaching the fundamentals to players of all levels. Specifically, I was formerly elected Guam national tennis coach for the 2007 Pacific Games in Apia, Samoa, and as a part of Guam National Tennis Federation was a member and co-founding contributor of the Tennis Academy of Guam.
Teaching Style & Experience
Years Playing
26 Years
Years Teaching
10 Years
Kids
Juniors
Adults
Beginners
Intermediate
Advanced
Students can expect FUN, FITNESS, and KNOWLEDGE and anticipate hitting lots of tennis balls, isolate contact and balance with movement. I focus on fundamentals up front that carry over into drills. I enjoy utilizing game-based drills using scoring and targets are at the forefront of all lessons, progressing into live hitting scenarios. I believe all students of the game will build confidence and learn how to correct their own mistakes over the course of their development.
Lesson Packages
6 Hour Package
$384
($64 per hour)
13 Hour Package
$728
($56 per hour)
22 Hour Package
$1078
($49 per hour)
... or call (866) 454-2747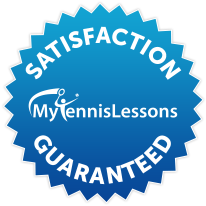 Locations
McFarlin Tennis Center
1503 San Pedro Avenue
San Antonio, TX
Lackland Airforce Base/Gateway Hills Tennis Center
1800 Dimsted Place (Corner of Truemper St./Dimsted Place)
Lackland AFB, TX
Taft High School Tennis Courts
11600 W FM 471/Culebra Rd
San Antonio, TX
Earl Warren High School Tennis Courts
9411 Military Drive West
San Antonio, TX
Availability
= Available
| | Monday | Tuesday | Wednesday | Thursday | Friday | Saturday | Sunday |
| --- | --- | --- | --- | --- | --- | --- | --- |
| 6am | | | | | | | |
| 7am | | | | | | | |
| 8am | | | | | | | |
| 9am | | | | | | | |
| 10am | | | | | | | |
| 11am | | | | | | | |
| 12pm | | | | | | | |
| 1pm | | | | | | | |
| 2pm | | | | | | | |
| 3pm | | | | | | | |
| 4pm | | | | | | | |
| 5pm | | | | | | | |
| 6pm | | | | | | | |
| 7pm | | | | | | | |
| 8pm | | | | | | | |
| 9pm | | | | | | | |